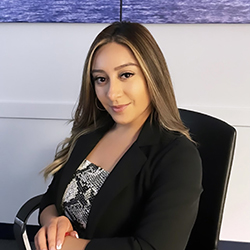 YESICA GUZMAN
Yesi joined the CCC family in September of 2015. She graduated from Fox College in December of 2015 with an Associates's Degree in Administrative Assistant.
Yesi is very passionate about criminal law. Her in-depth research and problem-solving skills help her to find solutions to very unique problems. Yesi's close attention to details is not at all affected even under stressful situations and tight deadlines that working in the criminal and personal injury field may bring. Yesi's bilingual skills have supported our attorneys greatly in helping to communicate with a wider array of clients and building trust in our firm.
Yesi is a true native of Chicago and a die-hard Cubs fan. In her free time, she enjoys exploring the hidden gems of the city. Her interests are: working out, traveling, watching criminal shows, and spending time with her parents and two younger siblings.

ROCIO PENA
Rocio Pena joined the CCC family in 2022. Rocio graduated from Harper College and has an Associate's Degree in Applied Science and a Paralegal Studies Certificate.